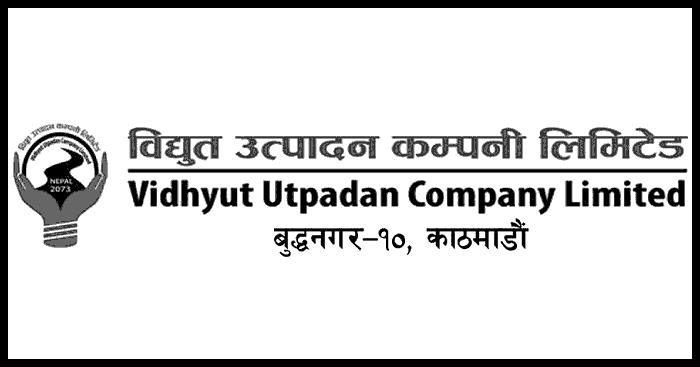 Notice for the Appointment of Chief Executive Officer at Vidhyut Utpadan Company Limited, Kathmandu
Vidhyut Utpadan Company Limited, located in Buddhanagar, Kathmandu, is seeking applications from interested Nepali citizens to fill the vacant position of Chief Executive Officer. The appointment will be made through an open competition process. Applicants must meet specific educational qualifications, age requirements, and possess relevant experience. This notice provides detailed information on the application process.
Minimum Qualification Required:
Applicants must be between 40 and 61 years of age.
Possess a Post Graduation degree in Engineering from a recognized university, with a specialization in Hydro Power.
Alternatively, applicants should have a Master's degree in Engineering from a recognized university, with at least 4 years of work experience in the hydropower sector and 2 years of work experience in other infrastructure fields.
Candidates should have a minimum of 12 years of full-time teaching or research experience in the relevant field.
No criminal record involving corruption, money laundering, or moral turpitude.
Not included in the black list or Damasahi as per prevailing laws.
No outstanding personal tax or government money arrears, along with a valid tax payment certificate.
Candidates or their immediate family members should not hold positions or shares in any electricity generation, transmission, distribution, or related companies. They must provide a self-declaration stating their non-attachment to such positions or at least one year of separation from them.
Documents and Details Required: Applicants are required to submit the following documents and details along with their application:
Educational qualification certificates, work experience details, and contact information (email, telephone, mobile number, home and office address).
Valid Nepalese citizenship certificate.
Certified copies of educational qualifications and professional work experience.
Consent letter from the current organization, if receiving remuneration from government funds.
The application should be submitted in English using Times New Roman font or Nepali Unicode font, with a font size of twelve.
An action plan outlining the business strategy for the company, not exceeding five thousand words, should also be submitted. The plan should be sealed, stamped, and have the applicant's name and address mentioned only on the outside of the envelope.
Business Strategy and Action Plan:
The submitted application should include a comprehensive business strategy and action plan for the position of Chief Executive Officer. The plan should cover the following points:
National and international scenarios in hydropower development, including investment, energy demand and supply, existing practices, and challenges.
Institutional governance and project management action plan, encompassing strategic planning, governance, financial management, risk analysis, human resource management, etc.
Projected financial statement for the company, current project status, strategies for project development, and a four-year action plan with targets.
Action plan implementation, including structural arrangements, monitoring and evaluation, financial plans, and cooperation with stakeholders.
Non-acceptance of Application:
Failure to submit any of the required documents or improper submission will result in the application being rejected.
Selection Process:
The selection process will follow the weightage criteria mentioned in the Procedure for Filling the Position of the Chief Executive Officer. The details can be found on the Electricity Production Company Limited's website.
Term of Office:
The appointed Chief Executive Officer will serve a term of four years, starting from the date of appointment.
Scope of Work:
The Chief Executive Officer's responsibilities will be determined by the company's Articles of Association, Regulations, prevailing laws, and the Board of Directors.
Remuneration and Other Benefits:
The remuneration, allowances, and additional benefits for the Chief Executive Officer will be determined by the Board of Directors.
Performance Contract:
A performance contract will be established between the Chief Executive Officer and the Board of Directors. It will outline the duties, evaluation process, and consequences of underperformance, as well as the services and facilities provided.
Interested Nepali citizens who meet the specified qualifications, age criteria, and experience requirements are invited to apply for the Chief Executive Officer position at Vidhyut Utpadan Company Limited. The application process, including required documents and the business strategy and action plan, is outlined in detail. The selection process, term of office, scope of work, and remuneration details are also provided.
Published on 25th May 2023 (Jestha 11, 2080)