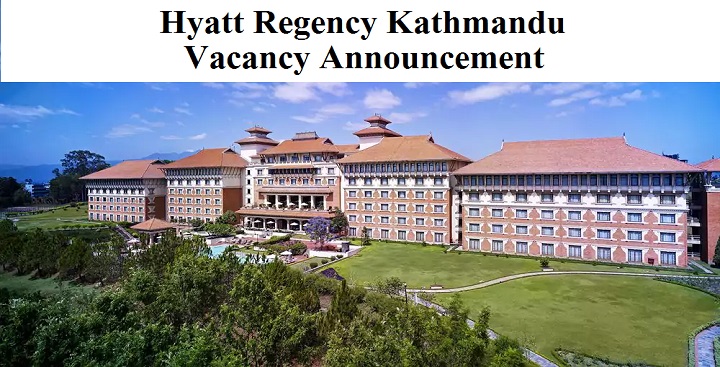 Hyatt Regency Kathmandu Vacancy for Executive Sous Chef
We are looking for highly motivated, self-driven and result-oriented personnel with excellent interpersonal, customer service, and  communication (English & Nepali) skills, as well an outgoing personality, for the position listed below. The candidates will be responsible for assisting in the efficient and smooth operation in the areas concerned, in line with Hyatt Hotels Corporation's strategies and brand standards. The successful applicant will be required to ensure an excellent and consistent service to customers, while meeting the expectations of associates, guests and owners.
EXECUTIVE SOUS CHEF
Ideally with a university degree with diploma in Hospitality or Tourism management or MBA preferred.
Minimum two years' work experience as Executive Sous Chef or Chef De Cuisine in larger operation and total 8-10 years' of experience in culinary field in a similar hotel.
Relevant knowledge in Indian cuisine and must hold strong Western and Continental experience.
Comprehensive knowledge of kitchen hygiene practices and occupational health and safety standards.
Advance Computer skills in MS Office and Recipe Maintenance System are preferred.
Good practical, operational and People Management skills, with a flair for creativity, are a must.
Good Communication skills having a Knowledge of local as well as an outgoing personality, international language.
Applications are invited from Nepalese citizens to incorporate curriculum vitae, a photocopy of citizenship with relevant documents (including name & contact details of three referees) and a recent passport-size photograph by Tuesday, 06 June 2023. Salaries and benefits will be in line with the Hotel policy. Only short-listed candidates will be invited for tests/interviews.
Management reserves the right even to cancel the whole acquisition process without mentioning whatsoever reasons to the all concerned.
If you are interested, please send your application to:
Human Resources Division
Hyatt Regency Kathmandu
Taragaon, Boudha, Kathmandu, Nepal
E-mail: [email protected]